Golden because it's made with fresh Ginger, fresh Turmeric  & a lovely blend of pumpkin pie spices, including black pepper to aid the absorption of the curcumin in the turmeric.
It's lightly sweetened using only organic dates and organic coconut nectar, and the spicing has a lingering Dutch Windmill Cookie aftertaste. 
Perfect with all kinds of milk – dairy or plant-based. 
Just add 30mls of Golden Latte syrup to 220mls of hot milk and stir,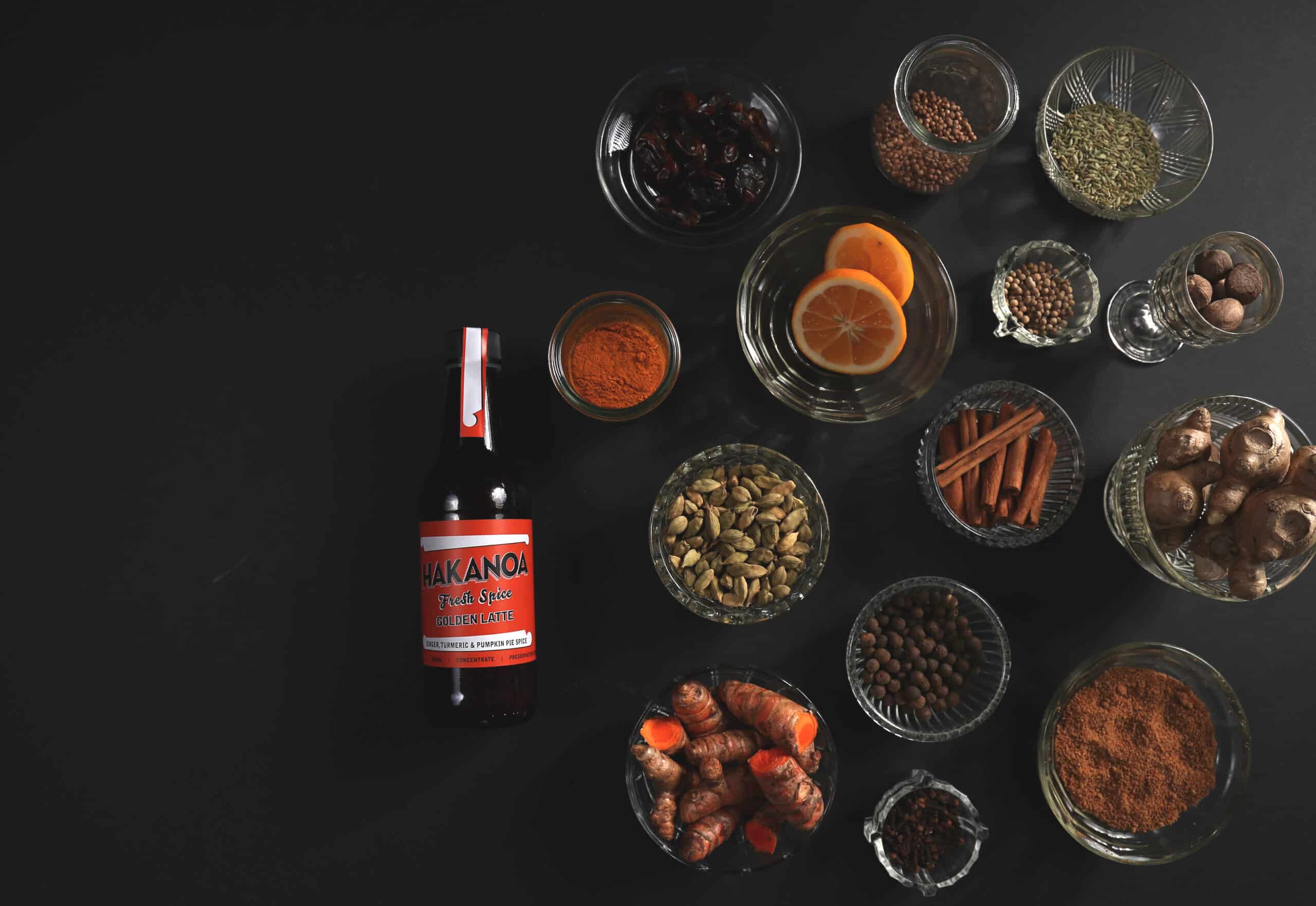 Filtered Water
Fresh Fijian Ginger Root 25%
Fresh Fijian Turmeric 20% (still says 10% on the labels but we doubled it)
Organic Dates
Organic Coconut Nectar
Dried Turmeric Powder 3%
Allspice
Black Pepper
Cinnamon
Cardamom
Coriander
Cloves
Nutmeg
NZ Lemon Juice – Not from concentrate
We work with our spices the way a chocolate maker works with cocoa beans – a lot of steps are taken to dry, ferment, toast, grind and temper those beans before a cup of hot chocolate can be made.
Our ginger is grown especially for us by farmers in Navurevure, Fiji, and harvested 3 months later than usual so we get extra ginger depth and strength into our concentrates.
Here we've started as always with an array of whole fresh spices ground to order, our mature-harvest Ginger, plus fresh crushed Turmeric also grown by our Ginger farmers.
We recently doubled the fresh Turmeric in our formula because our regular drinkers suggested we up it a bit – and we always listen 🙂
The spices are simmered slowly with fruity caramelly dates & coconut nectar, steeped overnight, and carefully strained.
We use just a dash of Meyer Lemon juice to make sure the mixture will survive in the bottle without preservatives until you open it. After that, you'll need to keep it in the fridge and use it up with in 3 months.
Just put a little fingers depth in the bottom of your cup, top it up with the hot milk of your choice, stir well, and enjoy.
A wonderful bedtime drink, or gorgeous for flavouring winter porridge.